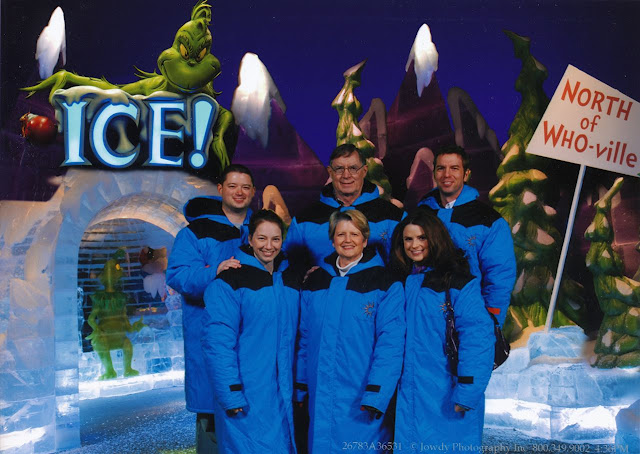 For the second time in three years, my family visited the Gaylord Texan Hotel to see the Ice Show they put on there every year. This is not just a tour of some ice sculptures in a hotel lobby, it's a full blown exhibit in a 10,000 square foot building chilled to zero degrees Fahrenheit (or -18 degrees Celsius). Black curtains create a pathway to wind visitors through a maze of bigger than life-size sculptures that takes about twenty minutes to walk through. Click on the photo at the top of this post to see more photos of the time we had. In a recent post of mine, I talked about the amazing ice sculptures and ice sculpting contests in Harbin, China. Reading about how the Ice Show at the Gaylord Texan was accomplished, it turns out the artisans were from Harbin. Pretty cool. They form over 2 million pounds of ice to make it all possible.


Two years ago when we went last time, the theme was penguins and this year the theme was the Grinch and Whoville, so it's nice to see something different each time we go. When seeing all these sculptures, it's easy to appreciate all the time that goes into forming all that we see. Colored water is used to make things look more lifelike, and blocks of ice are smoothed so seams don't appear. After a while, it's hard to remember that one is looking at ice and not just wandering through a cartoon world. However, if someone does forget for too long that it is all ice, the bite on the ears and nose from the cold will quickly bring one back to the fact that this tour is literally through a huge walk-in freezer. For the price of admission, you are given a large coat to help you enjoy your tour.
I had charged my camera battery just prior to leaving the house for the tour, but others hadn't, and the extreme cold ensured their cameras quit functioning about half way through. That's a bummer, because after the ice show, there is a lot more to see. The Gaylord Texan is an amazing hotel that would be way out of the price range Laura and I could afford. The Dallas Cowboys stay there the night before a home game at Cowboy's Stadium (presumably to make sure everyone shows up on time the next morning. I've heard that most NFL teams do this — no wives, no alcohol, no monkey business.) The hotel has several restaurants inside its central atrium, and shops all along the sides. At Christmas, the glass ceilinged atrium is lit with all kinds of lights, Christmas trees, decorations, several train sets that take up thousands of square feet, and even several life size cottages that are real "ginger bread houses" made of edible candy.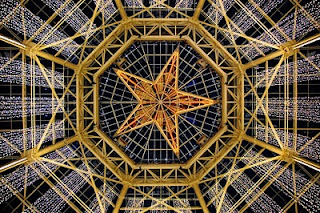 If you can make it, or are in the Metroplex between Thanksgiving and Christmas, make sure to plan some time at the Gaylord Texan for an absolute blast. Nearby are more affordable hotels, huge malls, and tons of eating places. We didn't want to pay for the fancy dining digs at the Texan, so we ate at the Love and War in Texas and enjoyed some really fine food. It was great to spend some time in Texas prior to the holidays. Because I work on Christmas this year, Laura and I headed down a few weeks before the holidays and it was great to see all my family: my sister and her hubby, my parents, grandparents, Aunt, Uncle and cousin. The Christmas holiday really is all about being with those you love the most so the time spent in Texas was precious to me. I hope you get to spend time with your loved ones as well this holiday. Merry Christmas.