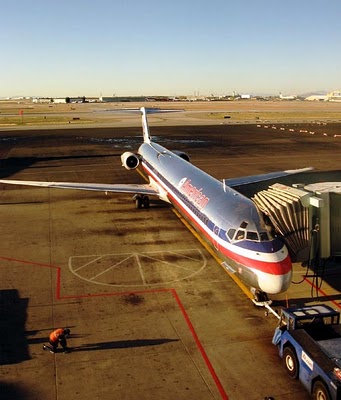 God was quite a blessing today to both Laura and me as we started day one of our vacation celebrating our fourth anniversary and Independence day with my family in Texas. Believe it or not, we're not made of money, and thanks to the Total Money Makeover, most all the money we do have is allocated to things of a much higher priority than vacations and travel. Through my work, we can buy standby tickets for about 40 dollars each way to Texas, but with today's airlines packing each flight as full as possible, there aren't many empty seats left for us to take. We also hate to pay full fare for flights to Texas when American has five daily flights from Columbus, so if we don't make one, we can usually make the next one. It's just hard to rationalize (Dave Ramsey style) paying for full fare tickets when we get very affordable standby tickets.
That is, until today.
With just a few hours sleep the night before, we got up at four in the morning to catch American's 6:55 AM departure to DFW. Unfortunately for us and several others trying to fly standby as well, a flight to Chicago, completely unrelated to ours, was delayed for several hours. With that, many people who had tight connections through O'hare were rerouted through DFW. All those paying passengers filled up the remaining open seats on our flight. So with bleariness in our eyes and trepidation in our hearts, we got to watch that flight push off the gate for Texas without us. The nonrevs (standby's) sat waiting for a seat on the 9:45 AM flight. It left us at the gate too. More standby's joined our jolly group for the 1:00 PM for DFW, and it left us all there too.
Things were grim and then went from bad to worse, as Laura found out from chatting up the gate agent that the final flight to Texas today at 4:00 PM had ten seats open on it and there were 18 standby's waiting for those ten seats. Guess who was number 17 and 18? Yeah, it was us, baby, and we were stoked about it! Why be in the middle of the list when you can be the cow's tail, the very last?
We started looking for flights the next day, and they were full too. Wow, welcome to summer? We looked at buying tickets, but at over $500 because it was last minute, we weren't sure what to do. Flying standby can be really frustrating because what can start out as a way to save several hundred bucks can end up costing several hundred more when the flights fill up. There is always a certain tension that nonrevs feel when the flight starts the boarding process and they don't have a confirmed seat yet. You can see your name on a monitor along with everyone else vying or a seat, but how many seats on the aircraft remain? Will there be enough seats to get my name called that far down the list? Laura and I are always last on the standby list because of the tickets we have access to via Cathay. Will our name be called next? Will I make it there? Nonrevs know this feeling well, and it can be irritating to watch passengers with confirmed seats (albeit, lighter wallets) march up to the gate at the last second and get on. We want that feeling of security too. We just don't want to pay for it!
The stress and frustration of nonrev travel can really get to you. Laura and I have had to decide that we'll just view this type of travel as an adventure, and if we make it, we make it, and if we don't, we don't. Standby usually saves money, but on trips like today, sometimes we'd just pay almost anything to get on the flight. Every day we aren't at our vacation destination is another wasted day, and if we end up missing the few first days of vacation and then still have to buy full fare tickets anyway, were the standby tickets really worth it?
Because this last flight looked pitiful, we called Laura's parents to come pick us up at the airport (they had dropped us off) and I started to look at buying a pair of full fair tickets for the next morning. Just then, there was a trickle of hope! The first couple on the standby list were called. They had first priority and had been waiting with us since six in the morning as well. They took their tickets and strolled down the jetway. Then, two girls who were also in front of us on the standby list, and who had been waiting since 1:00 PM were called. They jumped for joy and headed down the jetway. Finally, our hearts skipped a beat when we heard: "Cline, party of two, approach the ticket counter." Wow, could this be a mistake? Luckily for us, people hadn't shown up for this flight, and that cleared seats for us. However, the best part was that our seats were in first class! Along with us up there was the couple on the top of the priority list who had waited with us since the early morning, but not up there were the two girls who were ahead of us on the list. Our only guess is that even though they should have been up there, the gate agents felt like we had waited so long, we needed the extra service, legroom, and nice meal.
I have to give credit to the American gate agents there in Columbus, because they didn't have to do that for us. We only had access to coach seats with our standby tickets, but we sat in first. We didn't have the priority to sit up front because the two girls in front of us on the list should have been there, but we got first class. I guess if those two gals had seen where we were sitting, they may have pitched a fit, but in the end, we were all just happy to get a flight toward our destination. So, once again, God took care of us, via American Airlines gate agents and we got to Texas on the same day we intended too. First was great, with nice food and a chance to unwind and relax in big seats.
Maybe this vacation, with such an auspicious start, won't turn out to be too bad after all.