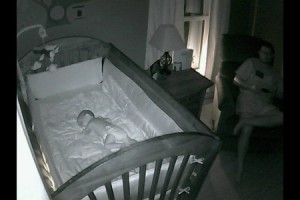 This past winter, the geek in me set up a couple ip cameras around the house so that when Laura and I were out, we could check in on what Gus was up to. I added another one so I could see the baby's crib while in Hong Kong, and added a third in the living room for security.
They are neat, cheap little ip cameras from Foscam and when set up, I can view and hear live video on my computer or iPhone from anywhere in the world, in real time. They even come with motion sensors to take pictures of a burglar.

The night vision (infrared) is spectacular and will show a black and white image in total darkness. This feature comes in handy when I'm waiting for Kiley to fall asleep and I don't want to get out of the chair at 3:00 am. Here we are battling sleep: me for it and Miss wide-awake against it.
It's nice to be able to check in on home while gone for so long and technology like FaceTime and Foscam make a 10 day trip a bit more bearable. When I'm gone for a really long time, just the site of home (even an empty kitchen or crib) helps take the sting away, at least for a little bit.