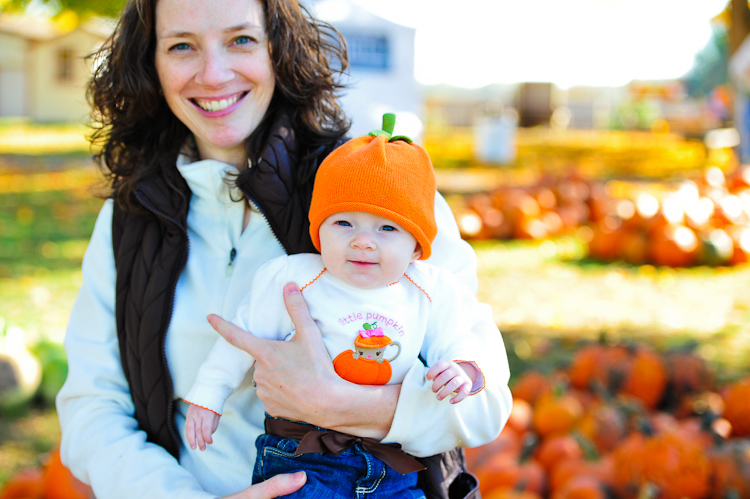 It is now confirmed as official: we have a cutie living in our house! Laura has wanted to take Kiley to a pumpkin patch for some pictures for a while now, and we finally found two that we could go to that were close by. I had just two days in town before heading back out to work, so on Tuesday, we headed a half hour away to Heath, Ohio to see if we could get some pictures of her amongst the pumpkins.
I don't know if there is a secret parenting manual out there somewhere that says that you have to take your infant/toddler to a pumpkin patch for pictures, but it seems that it is all the rage and everyone does it. We are not big fans of following the cliched crowds, and pumpkin patch pictures are about as standard as it comes. Said another way, when you go to the Grand Canyon to take some amazing pictures, don't stick your tripod legs into the same holes that thousands of other photographers have shoved their tripods into; go your own way and make your own pictures.
The only caveat to that is that if I do what everyone else does, I guess I'll end up with half decent pictures because there is a reason pumpkin patch pictures are popular, and there is a reason why so many tripods have been set up in the same places at the Grand Canyon — they produce fun pictures.

Kiley was tired, didn't get a good nap on the drive to Heath, and we were nervous this would be a big flop. When we got there, we found that there really wasn't a "patch" per se, but hay rides, slides, games, and other big-kid activities. We resigned ourselves to simply put her near a pile of pumpkins that were for sale and see what happened.
With low expectations, we actually got some good pictures of her smiling at the camera (mommy hovering right behind the lens) and some shade from a large tree provided even lighting. To top it off, there were some cute red wagons that could be used to bring the purchased pumpkins back to the car. The old, weathered red wagon was the perfect prop, but we found it a little late as Kiley will only sit and smile for so long, and the crying had begun. You can click the picture above for more photos "in the patch."
We left for home really shocked that she did so well, smiled so long, and that we got some decent pictures of her smiling. The next day, we went to a real pumpkin patch, where we wandered through a huge field of pumpkins. I found out the hard way that the stems are as prickly as a cactus! This time, we weren't so lucky. Kiley was in a foul mood, the direct lighting of the sun was brutal for my photos, and the 50 degrees and stiff wind chilled us to the bone in a matter of minutes. We got some pictures, but we were certainly glad the photo shoot from the day before went a lot more smoothly.
We also look forward to sharing some pictures of Kiley inside a large pumpkin we bought, but no promises that those pictures will turn out well!