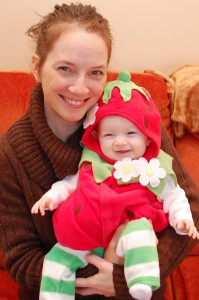 On November sixth, Kiley turned five months old, so we wanted to catch you up on what's been going on since the first week of October.
So far, she is still tiny, but is growing and the pediatrician says that she acts older than her age suggests. She loves to flash huge smiles at strangers and laughed out loud for the first time. I was traveling to Los Angeles when I received a text from Laura with the audio of the laughing — it brought tears to my eyes in the Denver Airport!
She is starting to babble and talk a lot, notice Gus being around her and loves to hold our finger when sitting in our lap. We started her on formula this month, taking one ounce, then two a few hours later. By the next day, she was holding her bottle and getting excited when she saw it enter the room. At the same time we added the bottle, we were able to get rid of the gas drops finally. We use Dr. Brown's bottles to cut down on gas and burping, and they've done a great job.
We bought her an exersaucer to play in and help teach her to hold her head up. She is so tiny that her feet didn't touch the ground and we had to add blankets beneath her just so her toes could help hold herself up! We also took some time to visit a pumpkin patch and the Pumpkin Show in Circleville. With her exersaucer and toys, she is learning to entertain herself, on her own, which is a blessing for us.
Finally, her sleeping has much improved this month. By the end of this month, she was sleeping unswaddled in a sleep sack until six am! For most of the month, she was waking up two to three times in the night, but giving her a bottle late at night helped hold her over until the morning. We have been able to put her in her bassinet for both naps and at night without her crying when laid down. We aren't sure how long that will last, but for now, she is happy to go to sleep. The pacifier is needed less and less and we try to only give it to her when she is fussy or needs to sleep.
She is making great progress and we are excited to see her progress as she matures.