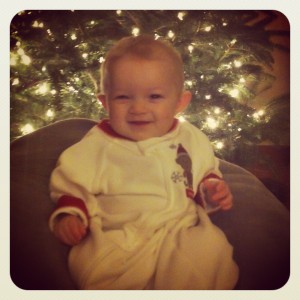 During her seventh month, Kiley remained a happy little baby for us and smiled a lot at everyone. She is still having acid reflux problems and we've had to increase her dosage twice to keep up with the decreasing strength as she gains weight. She is eating well though and she ate cereal for the first time. She liked it but wanted no more once we started her on baby food like sweet potatoes, pears, green beans and the ever favorite bananas. Like her daddy, she doesn't like peas at all.
Laura took her along on a lot of Christmas shopping runs and many people had lots of compliments. It was even hard to keep on schedule because so many people wanted to stop and say how cute she looked! One lady asked her shopping partner as they past, "Did you see that baby? Now THAT was a cute baby!" Wow, I love to hear these compliments because I know I'm pretty biased as to how cute she looks.

Christmas at grandma MomMom's was a fun time and Kiley allowed all the cousins to hold her. We had Christmas at home a few days early because we were planning to head to Texas for Christmas day. Bad weather moved in and we had to drive to Texas that night and she did really well for the 19 hour drive. Because most of it was all night, she slept most of the time. Once in Texas, she had trouble sleeping through the night as she seems to know when we are not at home.
Katie heard her making clicking noises that sounded like some new African tribal language none of us had heard before. I had to go to work for eight days, so Gus, Kiley and Laura headed to Tyler to be with my parents before I came back to make the long drive home. While there, Kiley got really sick and my poor dad had to make several trips to the local Walgreens to get the right dosage of reflux medicine to help her out. We also had to change to the most expensive formula there is (sigh) but it works and stays down, so it is worth it for sure. While in Tyler she finally said "dada" without knowing what she was saying.
I would FaceTime Laura from Hong Kong and Kiley would hear my voice and reach for the phone and put down her bottle! Once back home in Ohio, we tried putting her in her crib at night but she would scream from the reflux, so it was back to the bassinet for a while longer. She could nap in the flat crib, but that was it. She also started this habit of making an annoying, crackling whining sound when she was tired. Between that, pulling on her ears, and crying, there was no doubt when she was tired.
Finally, she has been able to push herself back into a seated position when leaning forward onto her arms and is getting better at balancing her body. She has also started crying out or yelling when she wants our attention. Once we glance her way, she smiles, the little stinker, because she knows how to get what she wants!